fiat ars chamber choir (Cologne, Germany) is coming to England this summer, more precisely to Peak District National Park and the surrounding area, in order to sing concerts and evensongs.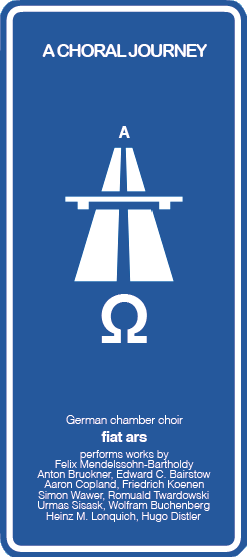 We heartily invite You to come and listen to us performing on the following occasions:

Sunday July 21st
6 pm
EVENSONG
Bakewell Parish Church
All Saints Church, S Church St, Bakewell DE45 1FD

Wednesday July 24th
1 pm
INFORMAL RECITAL
Liverpool Cathedral
St James Mt, Liverpool L1 7AZ

Thursday July 25th
7 pm
CONCERT
St. Marie's Cathedral
Cathedral House, Norfolk St, Sheffield S1 2JB

Friday July 26th
12.30 pm
LUNCHTIME CONCERT
Eyam Parish Church (St Lawrence's Church)
Eyam, Church St. Eyam, Hope Valley S32 5QH

Friday July 26th
7 pm
CONCERT
St. Barnabas Cathedral
North Circus Street, Nottingham, NG1 5AE

Saturday July 27th
4.30 pm
EVENSONG
Chesterfield Parish Church
Church Way, Chesterfield S40 1XJ


About fiat ars

fiat ars was founded in Cologne, Germany, in 2006. fiat ars' repertoire consists of sacred a cappella choir music of all ages, from the 16th century to the present. In its hometown Cologne fiat ars has earned a reputation for its well rounded concert programs with popular classic masterpieces as well as lesser known, even obscure, yet highly enjoyable compositions and for their distinctive light and clean, yet warm and full sound. Concert tours have so far lead fiat ars to France, the Netherlands, Hamburg and Munich. Ever since its founding fiat ars has been conducted by Jonas Dickopf.

About the concert program "A Choral Journey"

With "A Choral Journey" fiat ars present 60 minutes of fine choral music from the 19th, 20th and 21st century. Tied together by the theme of a "journey" – an actual journey as well as the metaphorical "journey of life" and a spiritual journey into the depths of faith – fiat ars will sing famous works by Felix Mendelssohn-Bartholdy, Anton Bruckner and Hugo Distler, works by composers from their hometown Cologne such as Friedrich Koenen, Heinz Martin Lonquich and Simon Wawer and further pieces by, among others, Edward C. Bairstow, Urmas Sisask, Romuald Twardowski and Wolfram Buchenberg.

Care to get a glimpse of fiat ars' singing?

Click right here to listen to our live performance of

Gustav Mahler: Ich bin der Welt abhanden gekommen
(Live recorded on October 7th 2018, concert at St. Elisabeth, Bergisch Gladbach-Refrath)

Barry Dirl: Alma redemptoris mater
(Live recorded on December 16th 2016, concert at St. Georg, Cologne)

Barry Dirl: Ad faciem
from "AD", a composition by Barry Dirl about parts of the Oratio Rhythmica by Arnulf von Löwen. "AD" was written especially for fiat ars and premiered in Cologne on 19 March 2017.
(Live recorded on March 24th 2017, concert in Cologne Cathedral)

And there are some more older recordings on our German site (Palestrina/ Rheinberger/ Barber/ Barbe).



You can find more information on fiat ars on our (all German) site fiatars.de.